Detroit Lakes Chiropractor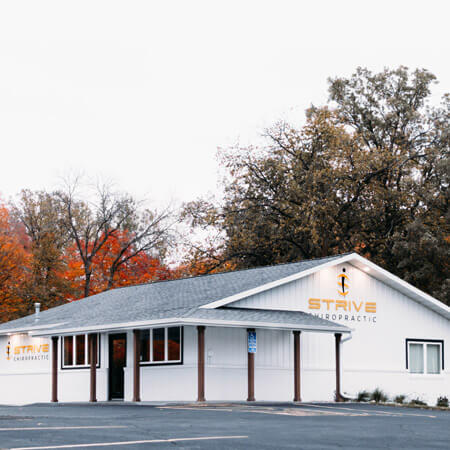 A dedication to excellence, combined with our compassion and state-of-the-art technology, are what sets us apart. You can feel confident that you'll receive the care that helps you reach your specific health goals in our comfortable, warm atmosphere. Our team is committed to exceeding your expectations at every turn!
We're delighted to provide care for all ages in our community. Dr. Chris Pischel, our principal chiropractor, was an intern with Dr. Jake Grinaker at our Fargo location. Together, they started the Detroit Lakes location in 2018.
A Passion for Keeping Your Family Healthy
As a member of the International Chiropractic Pediatric Association and Epic Pediatrics, Dr. Chris is trained in caring for even the youngest members of your family. Many of his pediatric patients have challenges, which can include things such as ADHD or sensory processing disorder. After joining our practice, their parents and teachers alike are amazed and thrilled at the changes they see in the child.
Pregnant moms also love the benefits of chiropractic. When the nervous system is working optimally, and at its full potential, it can lead to a healthier, happier, more comfortable pregnancy, which can then lead to a quicker and more comfortable labor. It has also helped couples conceive, who were having trouble getting pregnant, with no medical intervention needed.
We love sharing in our patients' successes. Newborn babies who can't sleep are resting easily through the entire night. We've seen infants or toddlers with issues such as ear infections and developmental delays who are able to overcome their challenges.
It's Not Just for Pain
When you think of chiropractic, you might think of getting help with discomfort. It's true that many people seek us out because they have an injury or challenge. Our goal, however, is to change the way people think about chiropractic. We want to transform the idea that chiropractic is only about pain, into making your visits part of your healthy lifestyle. Chiropractic can allow you to adapt and overcome the daily stressors we all encounter as human beings.
MEET DR. CHRIS »
Get Started Today!
It's a big deal to trust a doctor with your family's health. We understand that it is a privilege to be chosen as your practitioner. We would love the chance to help you see why so many people in your community have found the answers they were seeking with us. Experience our warm, inviting environment with a community feel. Contact our chiropractic care center today!
---
Chiropractor Detroit Lakes MN | (218) 844-4848