Meet Dr. Jake Grinaker
Changing From the Medical Path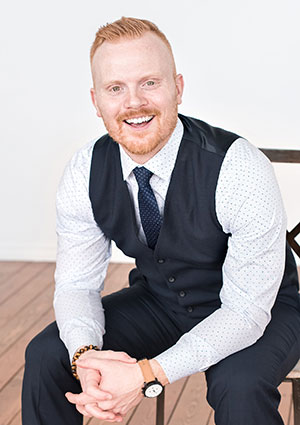 Set on going to medical school through high school and into college, everything changed when Dr. Jake's father passed away of a massive heart attack. It transformed the way he thought about health, causing him to search out all other possible healing professions from dentistry and physical therapy and everything in between. Dr. Jake's wife's cousin was a chiropractor, and after shadowing him, Dr. Jake knew what he was destined to do.
Transforming Lives to a Wellness Model
After graduating cum laude from the University of Minnesota – Duluth with a Bachelor of Applied Science in Exercise Science, Dr. Jake attended Northwestern Health Sciences University to achieve his Doctor of Chiropractic. "The most appealing part of becoming a chiropractor is focusing on health, rather than sickness and disease. It's inspiring and exciting!"
Dr. Jake specializes in corrective chiropractic care, focusing on pediatric, family, and wellness care at Strive Chiropractic in Fargo. He is one of a few doctors in the state that provide this specific technique. Additionally, he is a member of the International Chiropractic Pediatric Association with advanced training in pediatric and maternal care. Dr. Jake also spends a lot of time giving back to the community, serving as the president of the West Fargo Public Schools Health Advisory Council, former president of the Nativity Elementary PTO, board member of the Fargo Angels Youth Hockey Program, volunteer coach, and much more.
Voted International Chiropractor of the year in 2015 by Epic Practice, Dr. Jake loves providing care for all ages, from newborns to adults.
Loving Life in Fargo
Between the office and his family, Dr. Jake stays busy and active. He and his beautiful wife, Brittany, have four children: Merik, Ryker, Finnley and Crosby. When Dr. Jake isn't shuttling kids to activities, he and his family love to spend time outside biking, golfing and skating. They also try to spend as much time as possible at the lake in the summer!
Dr. Jake's family is originally from the Fargo-Moorhead area, and he still has many ties to the area. His dad Dave played football for Concordia before being signed by the Pittsburgh Steelers. His grandpa Finn coached football, golf, started the wrestling program and taught at Concordia for over 30 years. Dr. Jake and his family love every minute of being a part of our wonderful community! Contact us today to book an appointment!
---
Strive Chiropractic | Fargo ND | (701) 893-4200