Meet Dr. Libby Jordan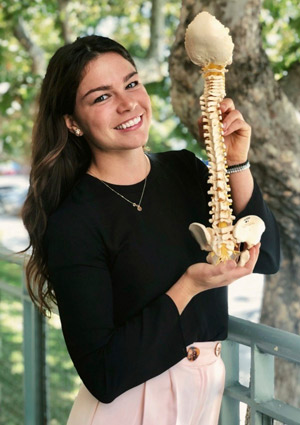 Dr. Libby found chiropractic's natural approach to healing fascinating and appealing. She knew that she wanted to be able to help people without the use of drugs or surgery. "I became a chiropractor because I can get to the root cause of a patient's problem. Medication just masks symptoms."
Chiropractic Education and Certification
To prepare for her career as a chiropractor, Dr. Libby earned her Doctor of Chiropractic from Life Chiropractic College West in the East Bay of California. "I chose Life because it embodies the art, science and philosophy of chiropractic." She also is in the process of completing her ICPA Certification. The International Chiropractic Pediatric Association is one of the largest chiropractic organizations in the world. "I chose to get certified through the ICPA because they are committed to excellence in pediatric chiropractic education."
The certification involves more than 300 hours of pediatric-specific education. This includes the Webster Technique, which is a specific chiropractic adjustment protocol to help balance pregnant patients' pelvises. "I have loved the process and learned so much through the ICPA!"
A Passion for Helping Kids & Moms-to-be
Dr. Libby enjoys working with pediatric and prenatal patients.
"I love the analogy of as the twig is bent, so grows the tree.' To me, this means it is better to grow healthy children than to fix broken adults."
In Her Spare Time
When she's not practicing, Dr. Libby loves to spend time with her family and rescue dog Sparrow at the lake. She enjoys anything outdoors such as backpacking, cross country and downhill skiing and much more. Dr. Libby also loves to cook.
Book an Appointment
Contact us today to schedule a convenient appointment with Dr. Libby!
---
Strive Chiropractic | Fargo ND | (701) 893-4200